Finding the right fountain pen can be a challenge, especially if you know little about fountain pens or have not written with one for a long time. Whether it is for a friend, a loved one, or yourself, it is important to find the right pen for the best writing experience.
Which brand should you look for? Which nib size should you choose and which type of fountain pen is most suitable for you? As such, here are the
Top 10 fountain pens around and under 100€
In this article, we address these questions and present our recommendations for different types of writers and their preferences. Our recommendations take into account a budget of around 100€.
If you want to learn more about fountain pens, you can find our fountain pen guide here.
Best all-round fountain pen – Lamy Studio
A global crowd favourite and an all-rounder, we recommend the Lamy Studio fountain pen. The multiple award-winning design hailing from the German town of Heidelberg combines artistic beauty with practical use. Well balanced in the hand, the minimalist Bauhaus design maintains its elegance even in the 21st century. In addition to its three classic colours, it is also available in special editions that are presented annually.
Equipped with the robust Lamy steel nib, this cartridge-converter fountain pen is ready for all writing scenarios. Whether for notes, signatures or the occasional letter, you can count on this reliable and elegant writing instrument. For those who want to take their writing experience up a notch, the Lamy Studio is also available with a 14K gold nib.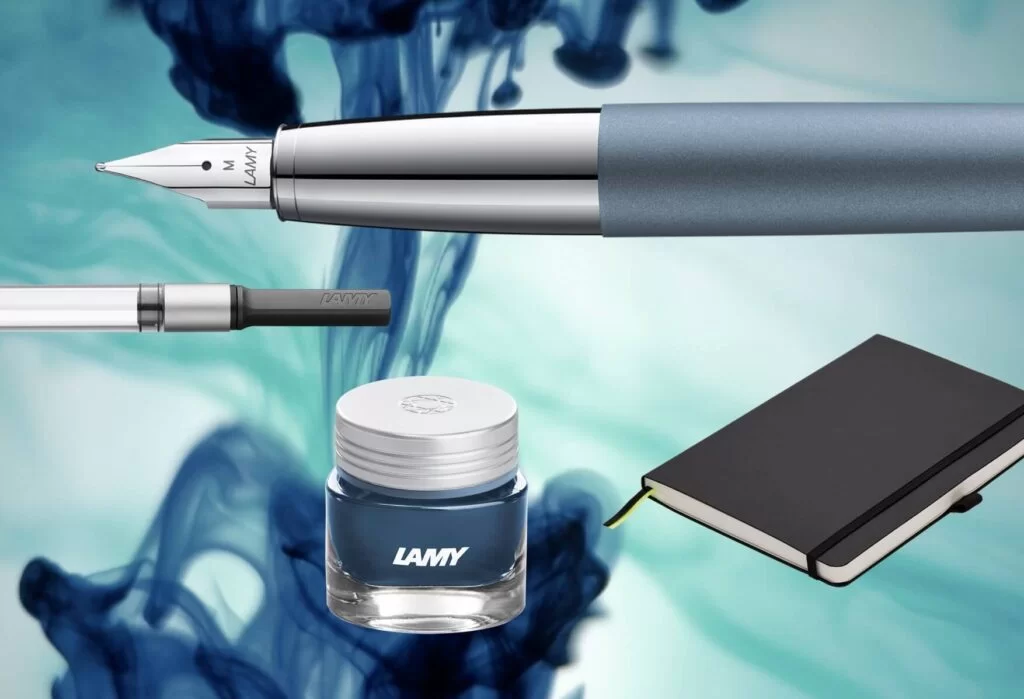 Best writing experience – Kaweco Student
A strong contender to our all-rounder is the Kaweco Student. As the name suggests, this pen was developed for students. The Kaweco Student fully lives up to its name and feels comfortable in the hand even after writing several pages. Kaweco's proprietary nib glides excellently over the paper and is a proven favourite with right- and left-handers alike. The screw cap, metal trim elements and strong precious resin ensure a consistently high-quality writing experience that one usually expects only from pens at a much higher price range. You will hardly find a fountain pen that is stellar on all fronts like the Kaweco Student for less than €100.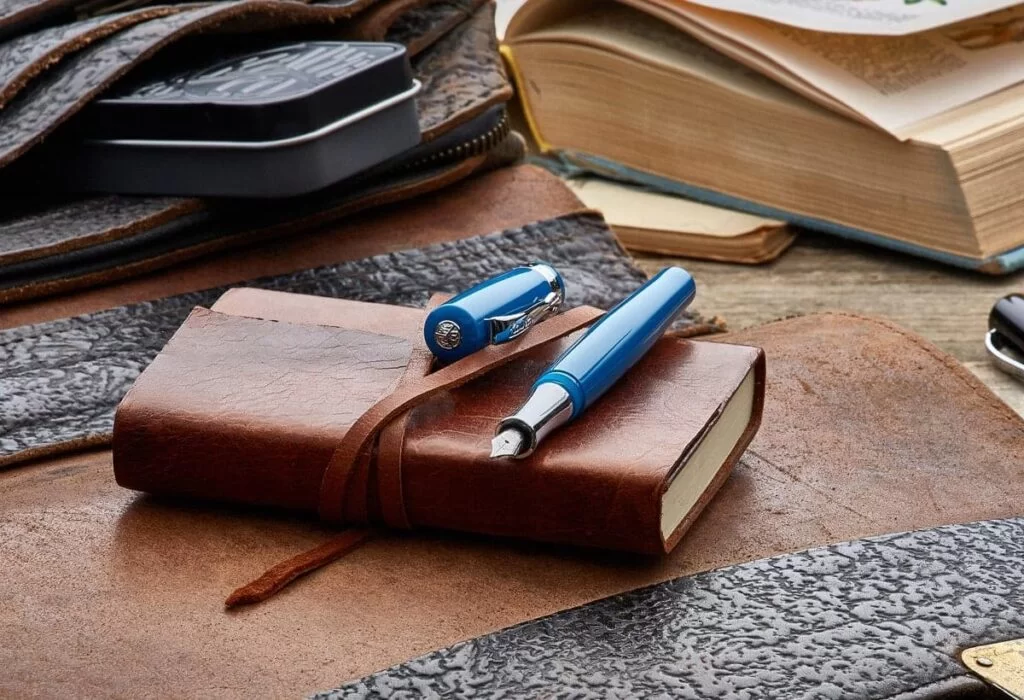 Best piston fountain pen – Pelikan Souverän M200
The Pelikan Souverän fountain pens have accompanied people in their everyday lives since the 1950s. Often passed down from generation to generation as heirlooms, these writing instruments hardly need an introduction. The M200 – the entry-level model of the collection – offers a multitude of Pelikan's signature features in a small, affordable package. Amongst them is the tried-and-tested piston mechanism, making the M200 the best piston fountain pen in its price range. Perfected for more than half a century, this piston fountain pen is for all writers who want to carry a larger ink reservoir or simply a significant piece of tradition in their fountain pen. In addition to the piston mechanism, the fountain pen is equipped with a soft steel nib and the iconic Pelikan clip.
Best metal fountain pen – Faber Castell Loom
If you prefer a modern, industrial look and a bit more weight in your hand when writing, the Faber Castell Loom is perfect for you. Available in a variety of colours and textures, the fountain pen exudes quality from cap to end. It also offers an enchantingly soft nib, most observable in their finer versions.  
Best Slim Fountain Pen – Diplomat Traveller
Bigger doesn't always mean better, especially when it comes to choosing your fountain pen. Our recommendation for a fountain pen with a slim form factor is the Diplomat Traveller, whose quality is clearly evident despite its smaller size. In addition to making full-metal fountain pens, the German manufacturer also produces excellent nibs that can easily withstand the pressures of everyday writing. Thanks to these features, the Diplomat Traveller is also wonderfully suited for the businessman on the go. Small, robust and practical, it is perfect for every briefcase.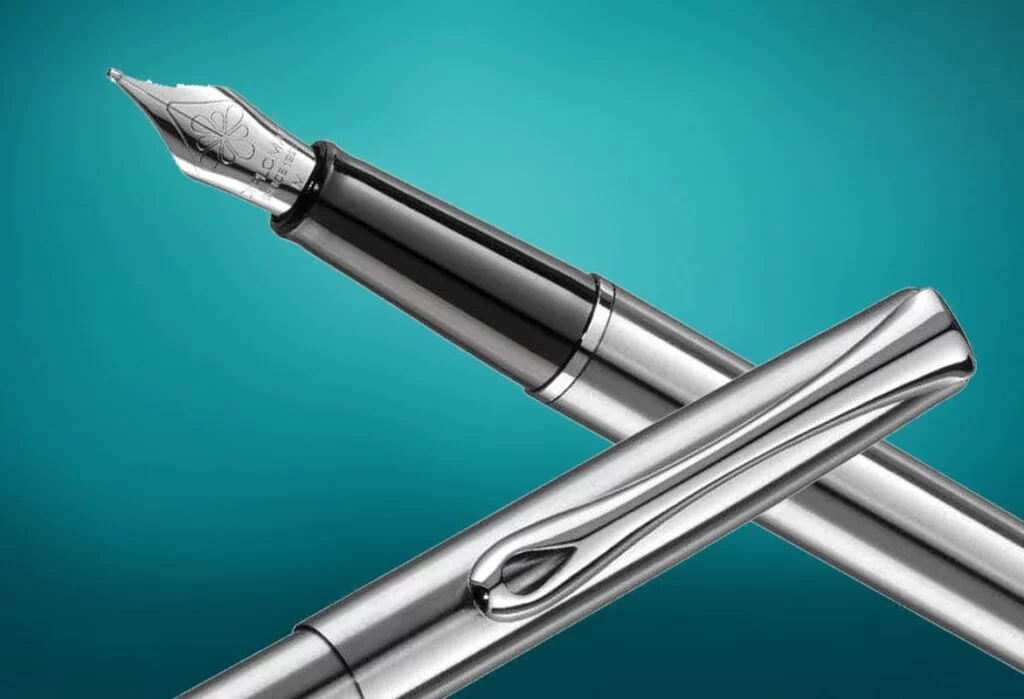 Best value for money – Lamy Safari
For those looking for a value-for-money, almost indestructible pen, we recommend the Lamy Safari. The international bestseller is an established icon in the world of writing, and not without reason. In addition to the reliable Lamy nib, the Lamy Safari is equipped with an ergonomic grip that is comfortable for endless writing. In addition to its eight standard colours, the Safari is also available in annual Special Edition colours. Those who prefer metal can look at the Safari's sibling models – AlStar and LX – which are slightly heavier due to their aluminium body. Additionally, the Lamy Vista is the transparent brother of the Safaris, which allows one to look inside the body of the pen.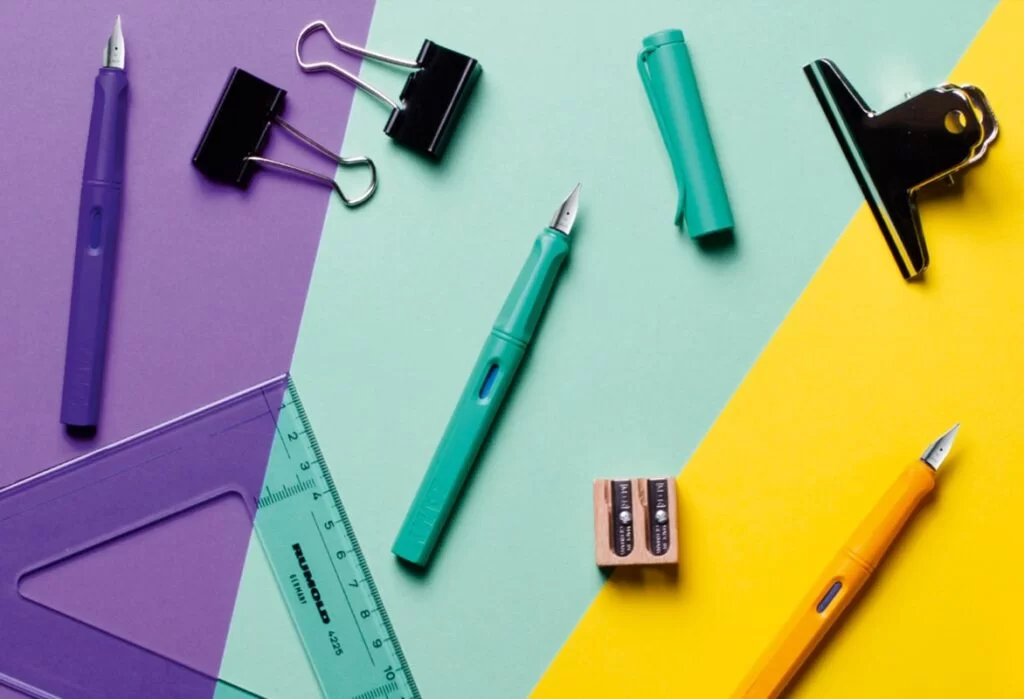 Best fountain pen for on the go – Kaweco AlSport
The writing instruments in the Kaweco Sport series have an unusual design, with the cap also acting as an extension of the body. When closed, the Kaweco AlSport is just 10.5 cm long – about half the length of an ordinary fountain pen. For writing, the cap is then posted, extending it to 13cm. The nib of the AlSport is the same as the Kaweco Student's as described above. The polymorphic design of the Kaweco Sport range makes the fountain pens ideal companions when out and about. In addition, the Kaweco Sport is available in aluminium (AlSport), plastic (Classic Sport, Skyline Sport, Frosted Sport), brass and other materials.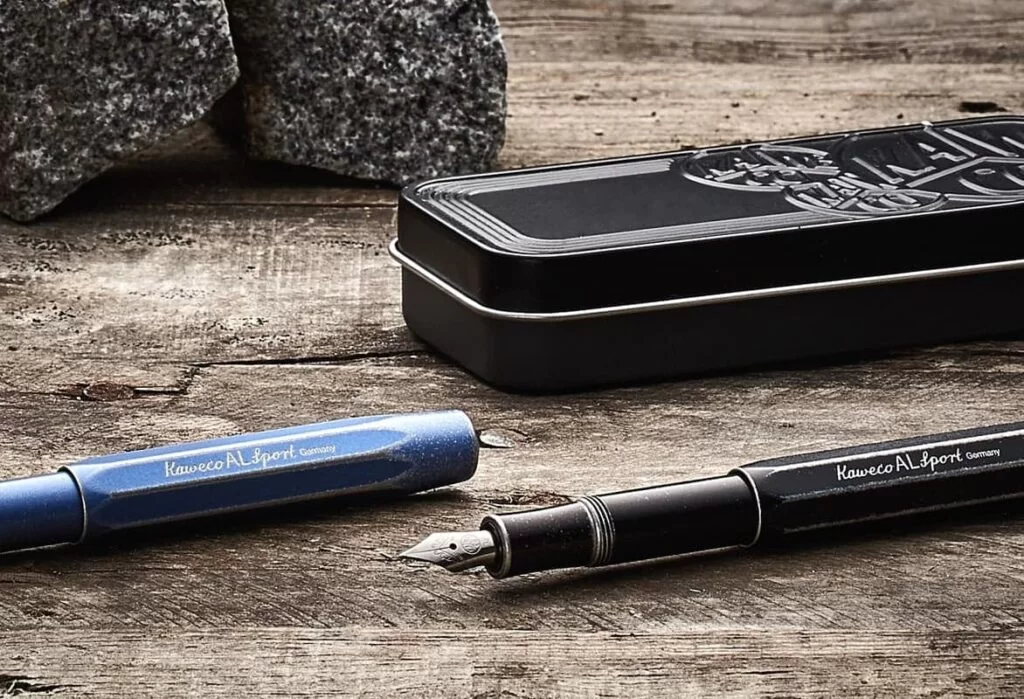 Best wooden fountain pen – Faber Castell Ambition
The Faber Castell Ambition is one of the brand's most popular fountain pens worldwide. With a sophisticated production method, Faber Castell has succeeded in producing wooden barrels for the Ambition collection. You can choose between three different types of wood for the body of the fountain pen. In addition to the beautiful natural product, the Faber Castell Ambition is also equipped with the brand's enchanting nib and is an excellent companion for anyone looking for a bit of nature in their everyday writing.
Best Business Pen – Otto Hutt Design 01
Whether in the office or at client meetings, the smallest impressions can often play a significant role in winning the trust of clients and the success of a project. A professional fountain pen complements the seriousness and sincerity of a contractual partner. However, not everyone wants to spend hundreds of euros on a fountain pen, and you don't have to! The Otto Hutt Design 01 fountain pen is a noble pen that exudes professionalism. With a multi-layered lacquered brass body replete with guilloche and polished accent pieces, this pen is made to the highest attainable standards of quality. Depending on the model, the cap is made of sterling silver or refined rose gold.  In addition, Otto Hutt makes some of the best steel nibs in the industry, leaving even experienced writers amazed.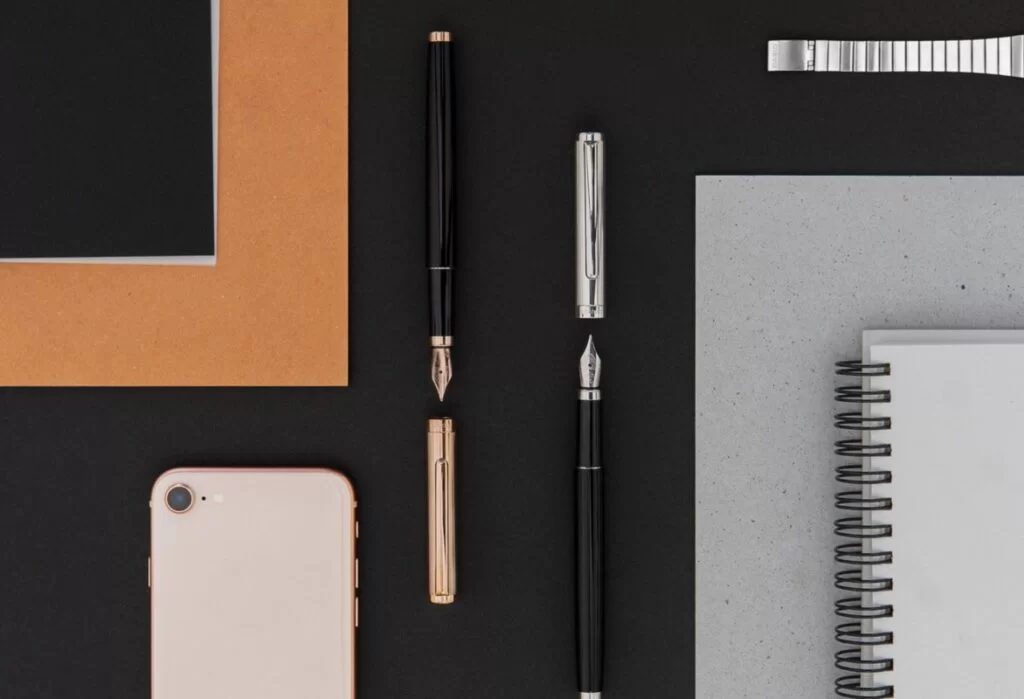 Best Classic Fountain Pen – Cleo Skribent Classic
Cleo Skribent has always stood for tradition and culture, which is clearly evident in the design of their writing instruments. The Cleo Skribent Classic is the perfect fountain pen for anyone looking for a classic design that embodies the writing culture of the last 50 years. Equipped with a piston mechanism, the Cleo Skribent Classic is available in many timeless colours and is a formidable companion for everyday writing.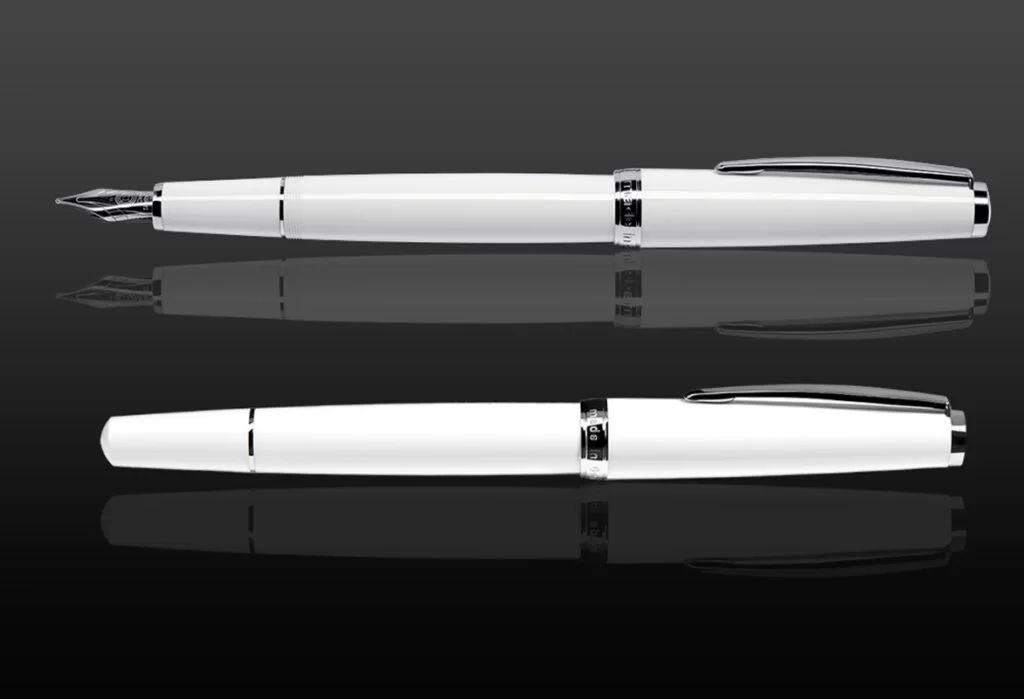 The best fountain pens under 100€ – What should I look out for?
For those whose hands are greasy or often sweaty while writing, it is advisable to choose fountain pens with plastic or rubberised grips. In addition, we recommend the nib size M for beginners or those returning to writing with a fountain pen. The question of whether to choose a piston, cartridge or converter fountain pen is a very personal one and depends very much on the type of writer and his situation. The most convenient choice is the cartridge fountain pen, which in most cases can be equipped with a converter so that inks from bottles can also be used. A piston fountain pen is more traditional with the added advantage of a larger ink reservoir.
Nevertheless, with fountain pens, the proof is in the pudding!
This article was first published in German here.